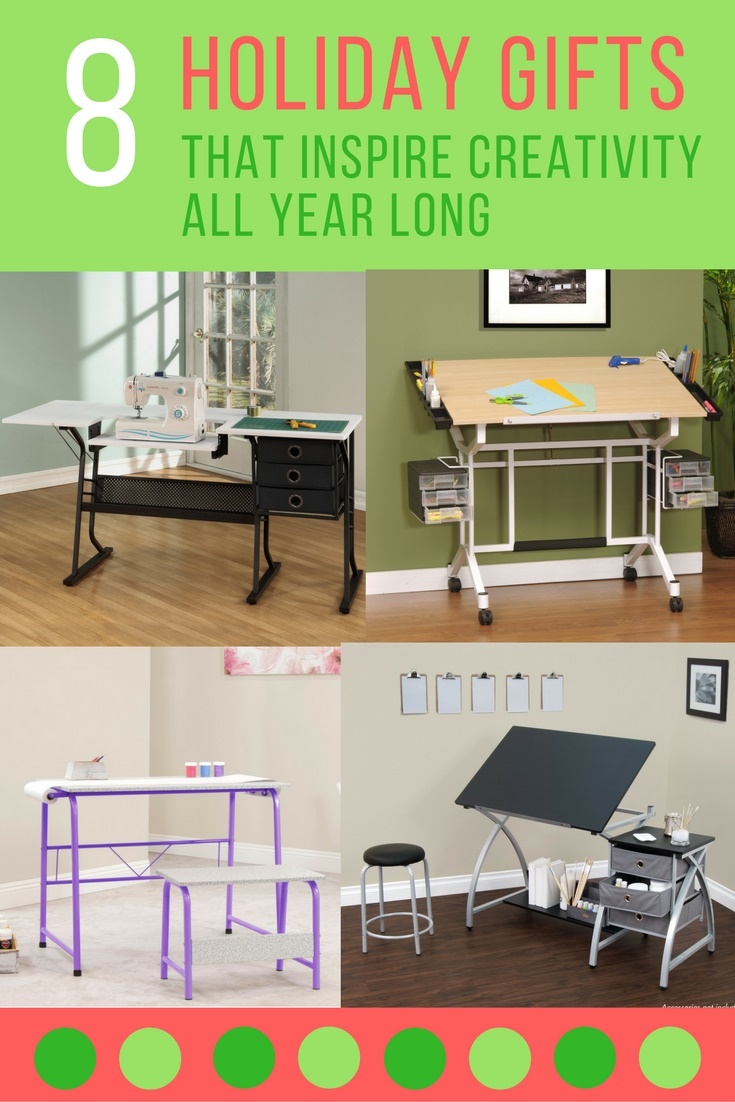 Posted on
8 Holiday Gifts for the Painter, Seamstress, Young Artist or Scrapbooker
No. 8 The Project Center - For the Young Artist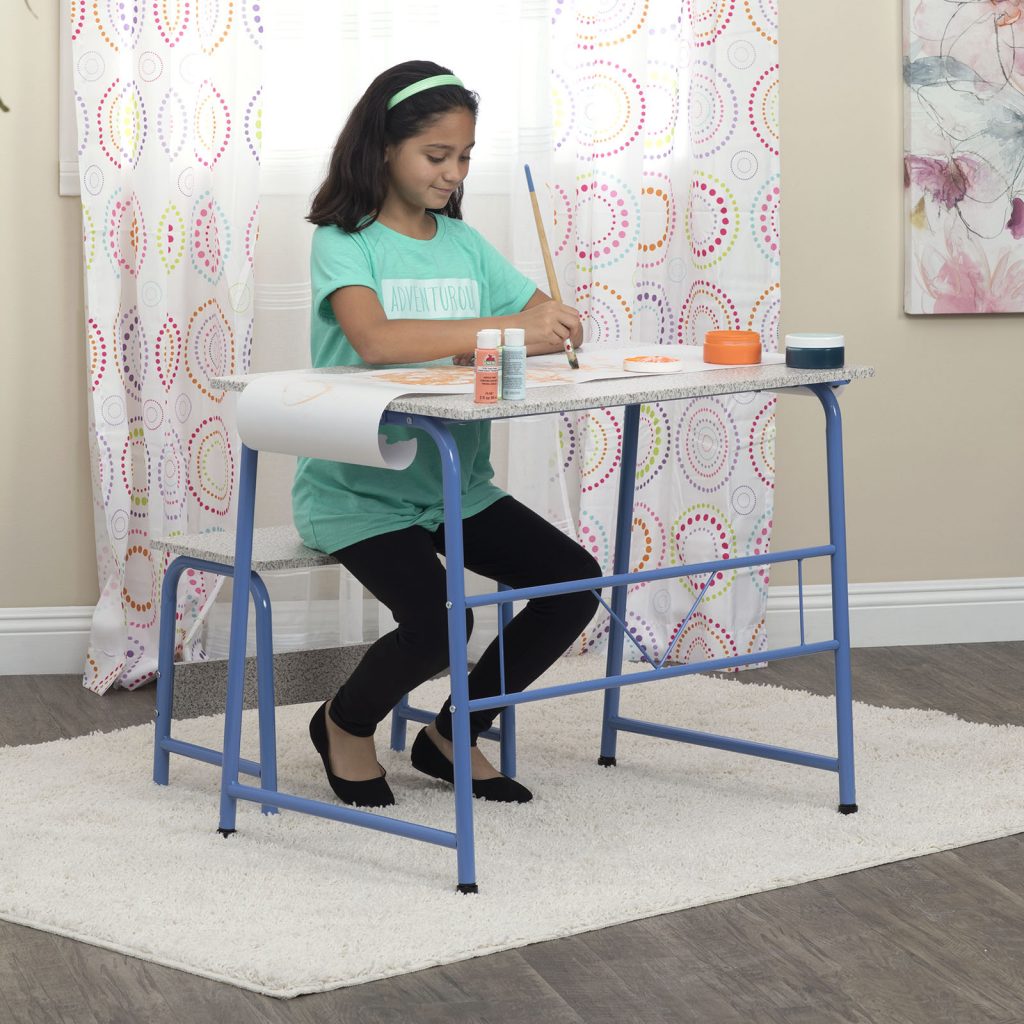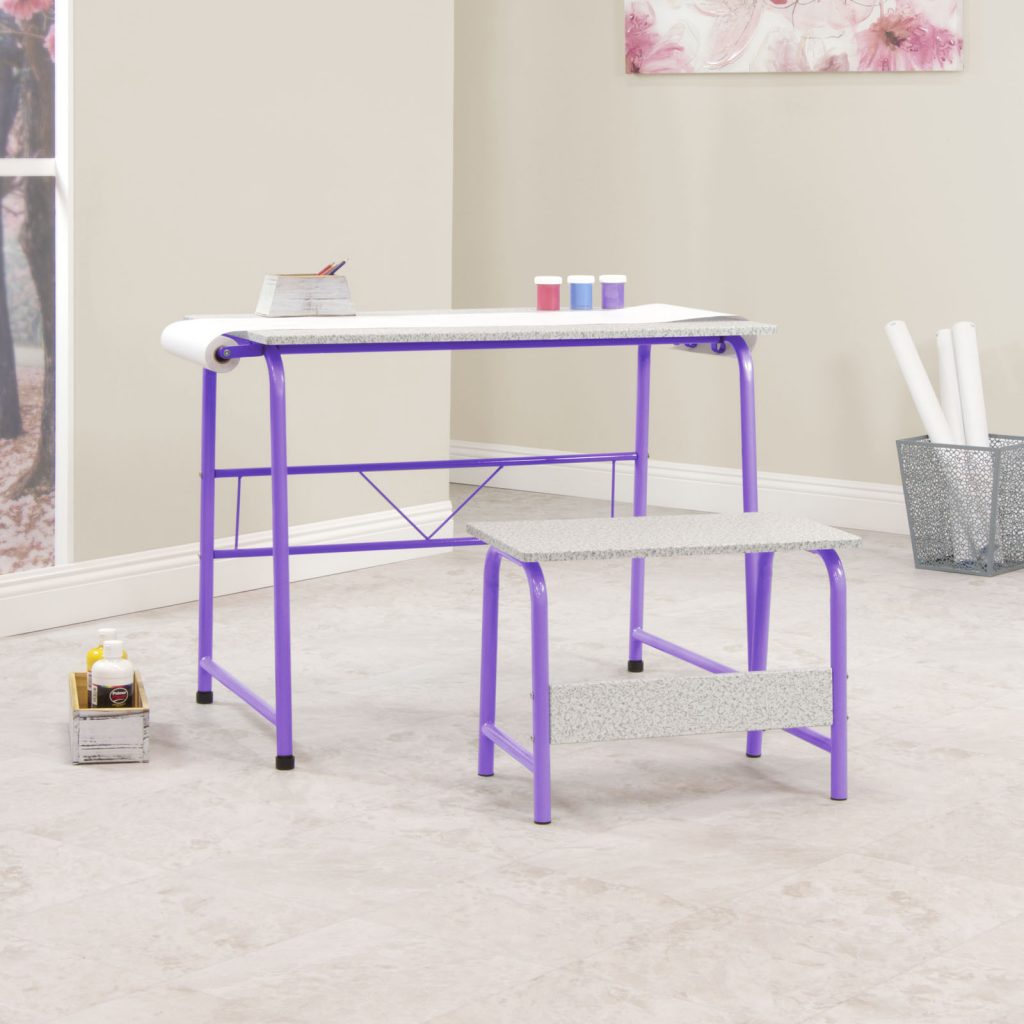 The Project Center by Studio Designs combines an art/ learning table with a bench.  The sturdy, steel legs and thick tabletop make it durable.  The 5/8 inch thick laminate top is easy to clean and is rounded for safety.  The large 35.5-inch x 22.5-inch tabletop provides plenty of space for supplies.    A paper roll is included so you can run craft paper across the tabletop creating a simple canvas for artwork.  You can use pencils, crayons or watercolors on your craft paper and easily wipe clean any accidents off the top.  Replacement paper rolls are also available
Two hooks on the side of the table provide a secure spot for backpacks or bags.  Available in a variety of finishes: Pink/Spatter Grey (Item # 55125), Blue/Spatter Grey (Item # 55126), Purple/Spatter Grey (Item # 55127) and Grey/Spatter Grey (Item # 55128).
No. 7 Kid's Easel with Storage- For the Young Artist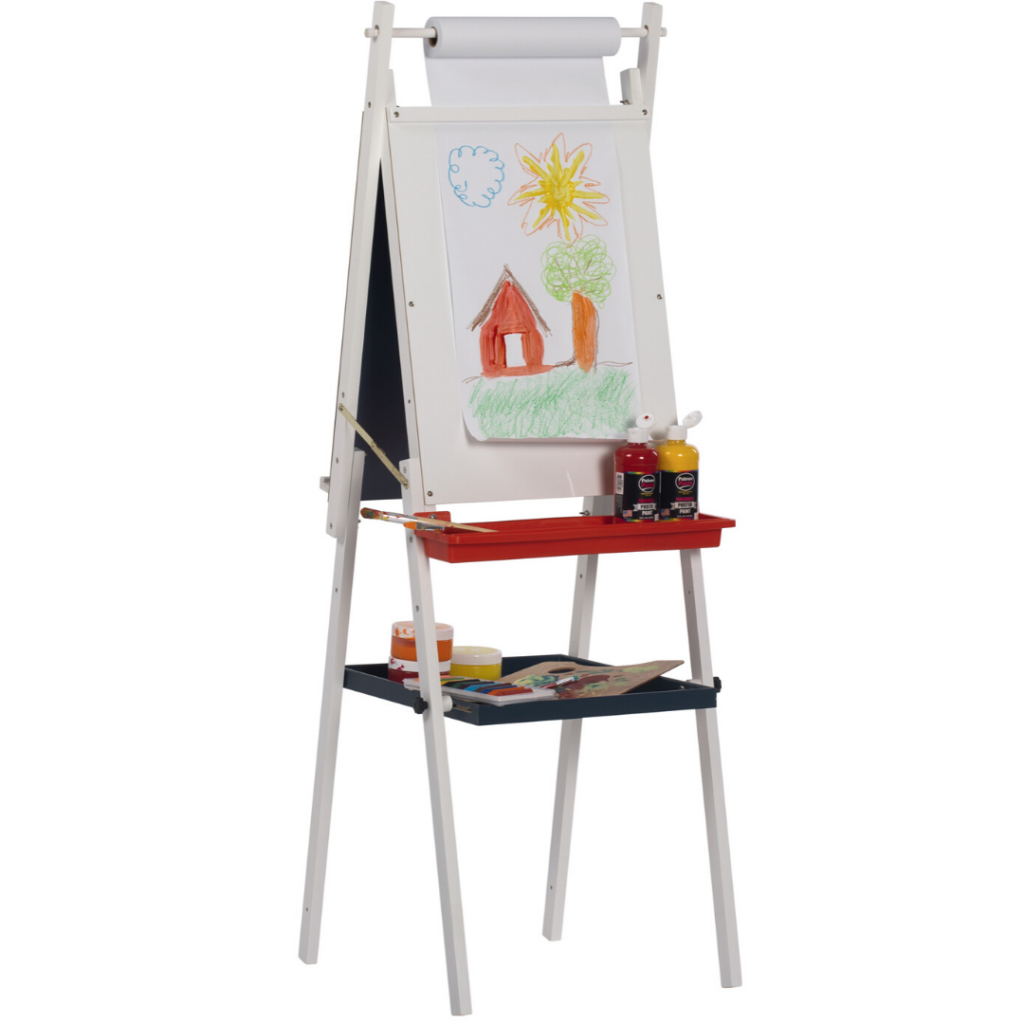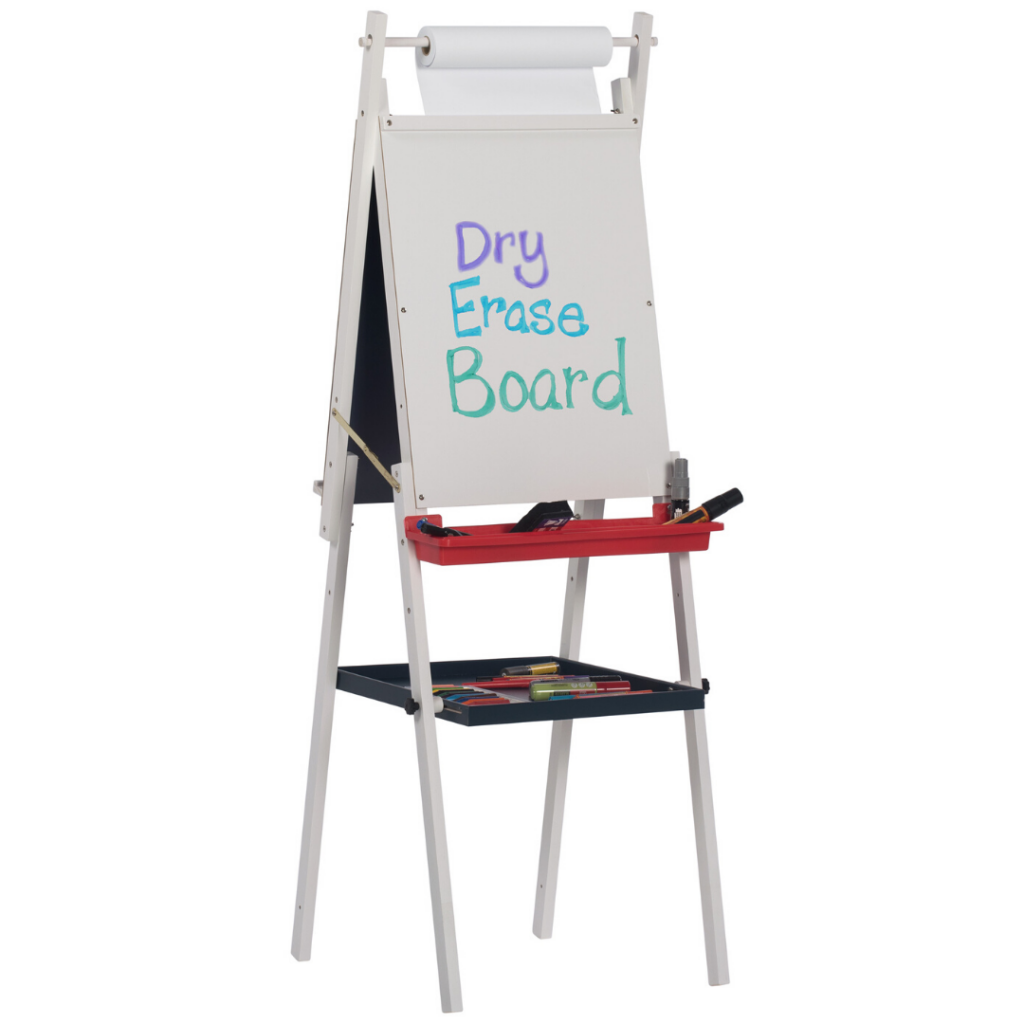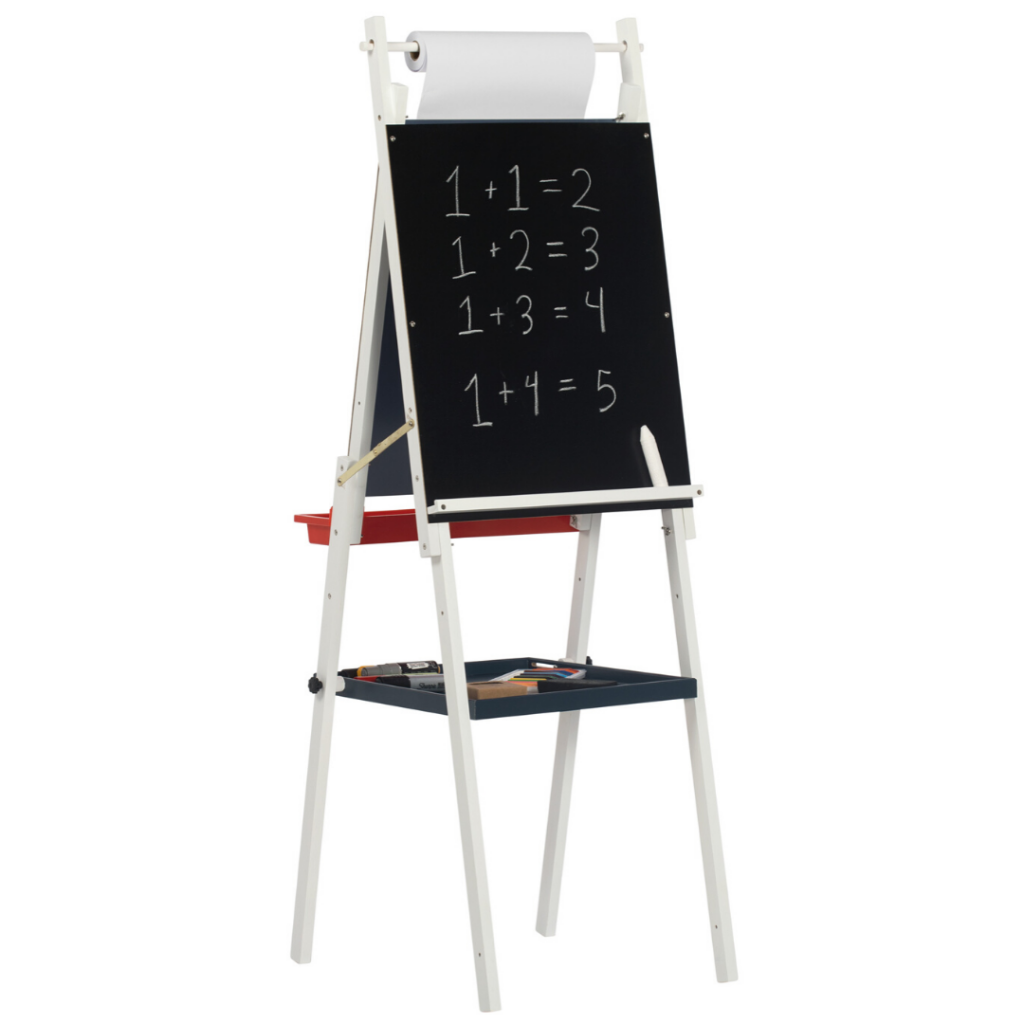 Let their imagination flow with Studio Designs' Kid's Easel with Storage. This dual side easel features a dry erase board as well as a heavy-duty chalkboard. A mounted dowel above the boards holds paper rolls up to 16'' wide. A removable paint tray allows you to keep those artistic expressions clean and under control. The additional center supply tray is perfect for extra storage space. Can be folded flat for easy storage. Paper roll included. Replacement paper rolls available for purchase
No. 6 Pro Craft Station - For the Scrapbooker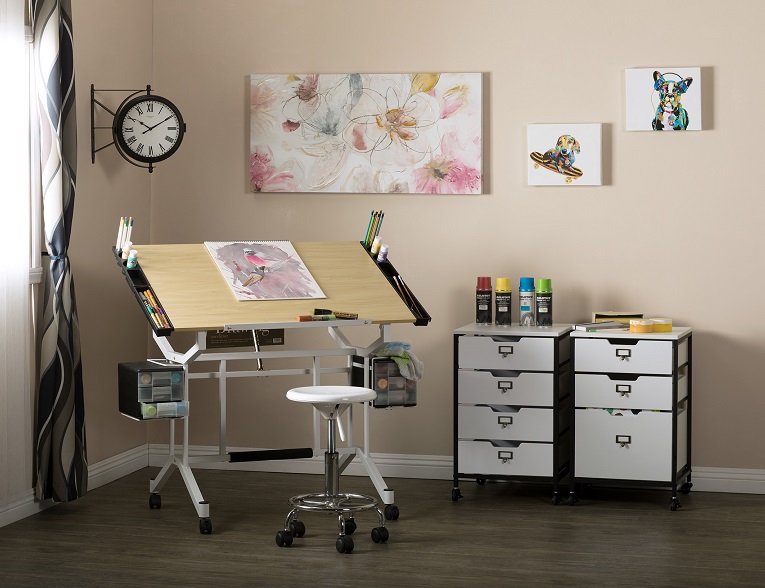 The Pro Craft Station by Studio Designs provides ample workspace and stores all of your supplies and accessories. The tabletop adjusts up to 45 degrees. 4 removable side trays and 2 three-drawer storage shelves with adjustable height keep your supplies organized and accessible. A 24'' pencil ledge slides up and locks into place when needed.
No. 5 The Comet Center- For Drawing and Crafting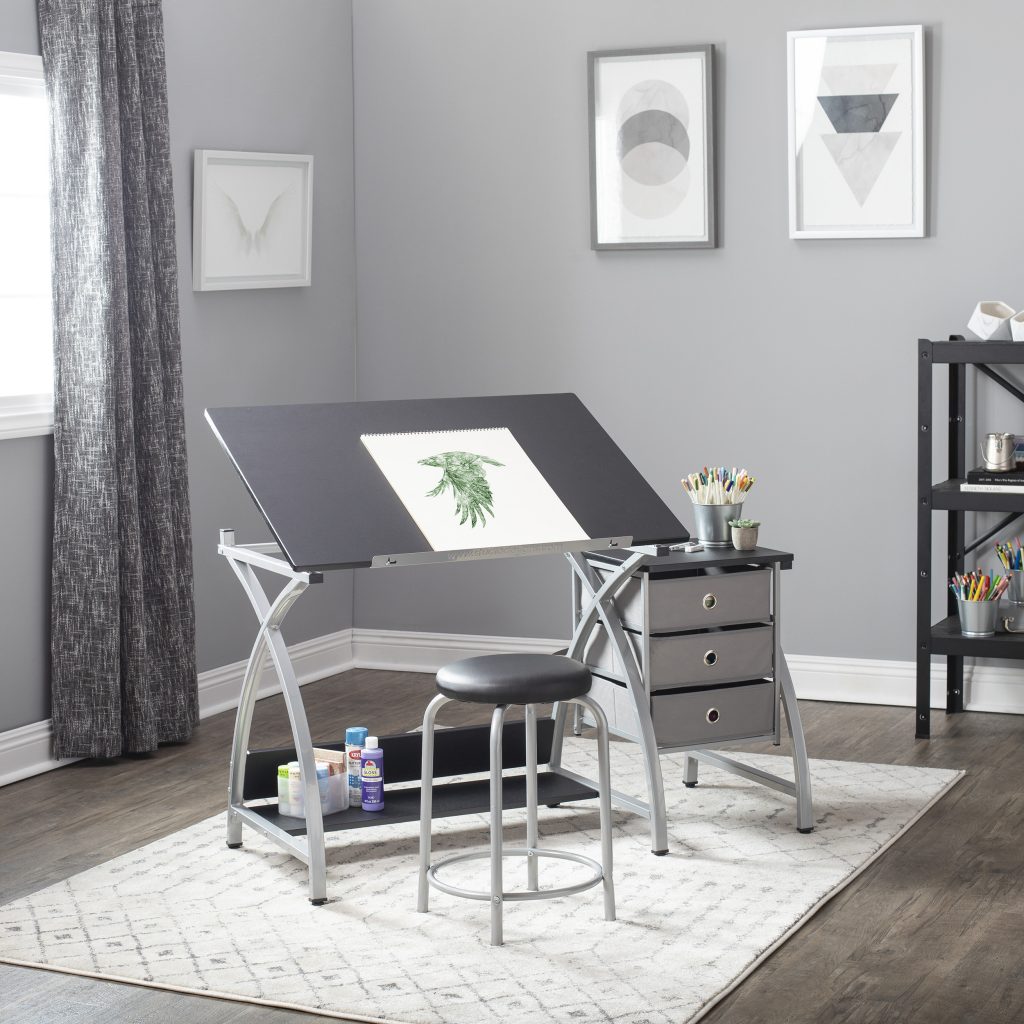 The Comet Center by Studio Designs provides a comfortable workspace and keeps your supplies easily accessible. The tabletop is adjustable up to 40 degrees and includes a 24'' pencil ledge that slides up and locks into place when needed. The set also features three adjacent storage drawers and a padded stool.  This set is available in a variety of colors.
No.N
No. 4 Deluxe Craft Station- For Crafting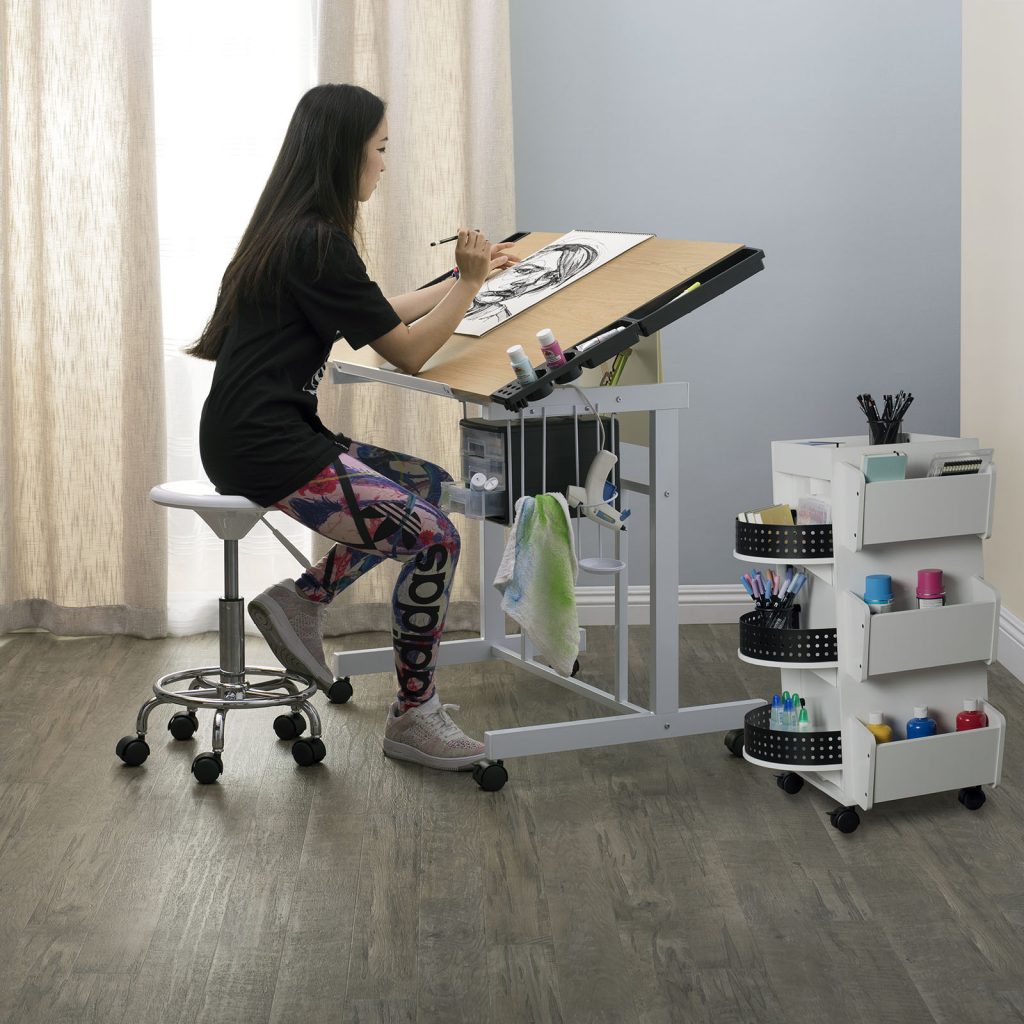 Studio Designs' Deluxe Craft Station features a comfortably large work surface and a place to keep all of your various supplies. The tabletop easily adjusts in angle up to 40 degrees - just pull the top of the table up to the desired height and it locks into place. 4 accessory side trays and 3 slide-out drawers are available for storage. Also includes a 24'' pencil ledge that slides up and locks into place when needed, as well as a cup holder and metal frame holder with drip tray for a glue gun.
No. 3 Student Field Easel with Bag- For the Landscape or Watercolor Painter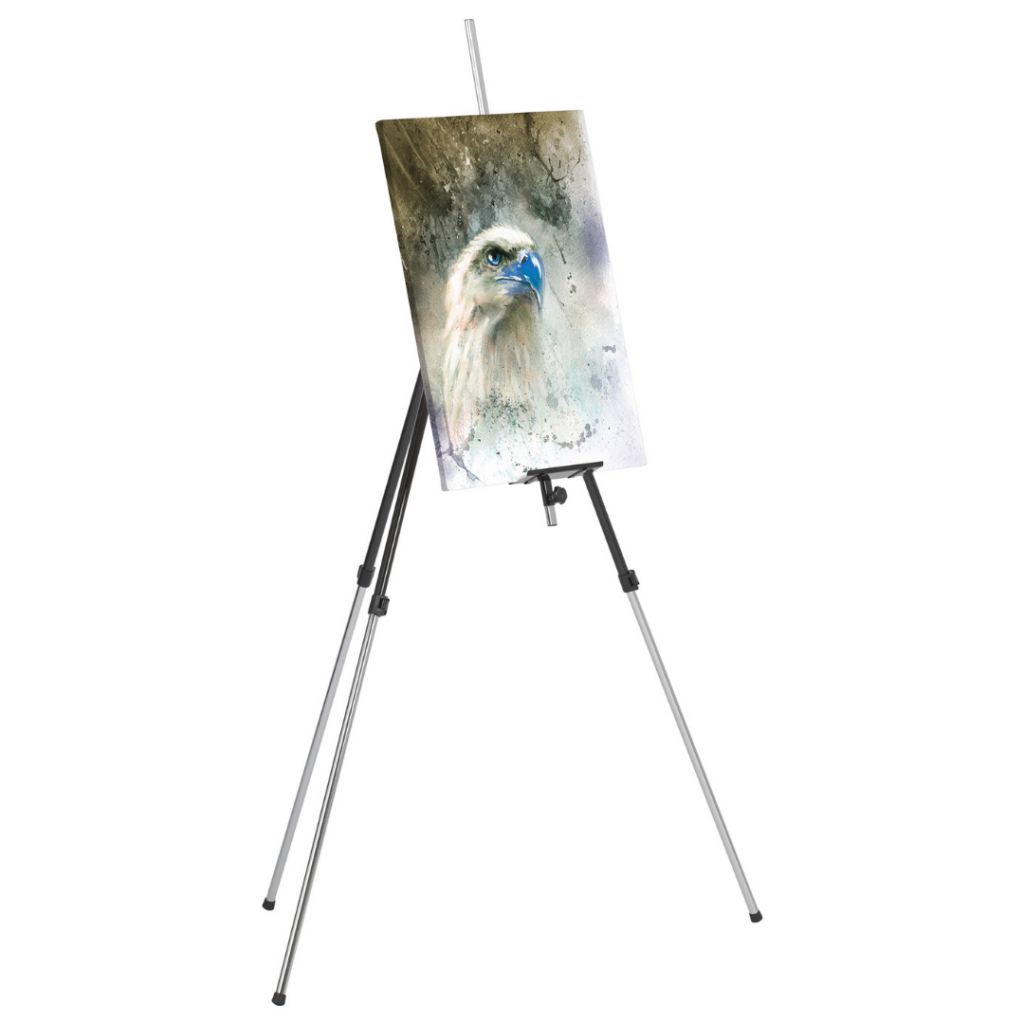 Studio Designs' Student Field Easel with carrying bag adjusts to any setting for versatile use. This multi-purpose easel functions both as a steady work easel and an attractive display easel. It accommodates materials up to 28'' high and 1.5'' thick. Adjusts in angle so you can work with a surface tilted parallel or perpendicular to the ground and anywhere in between. The snap-fit clamp system allows easy, secure telescoping leg adjustment.
No. 2 Studio Artist Bench- For the Still Life and Studio Painter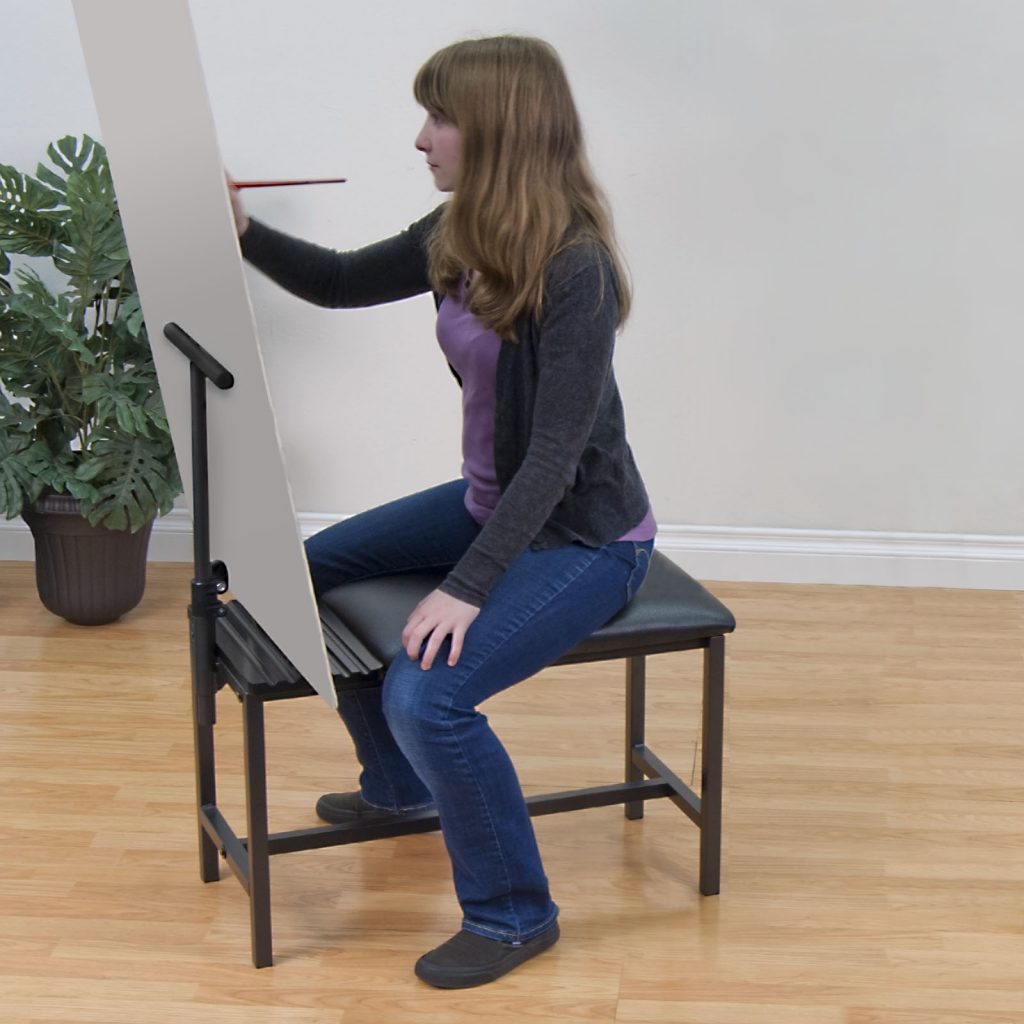 For indoor and outdoor use, the Studio Bench by Studio Designs goes anywhere your art takes you. The durable steel bench is lightweight for portability. It features a 23'' padded bench seat. The 6 drawing board grooves and 18'' adjustable post allows you to work comfortably.
No. 1 Eclipse Hobby / Sewing Center- For the Seamstress or Sewist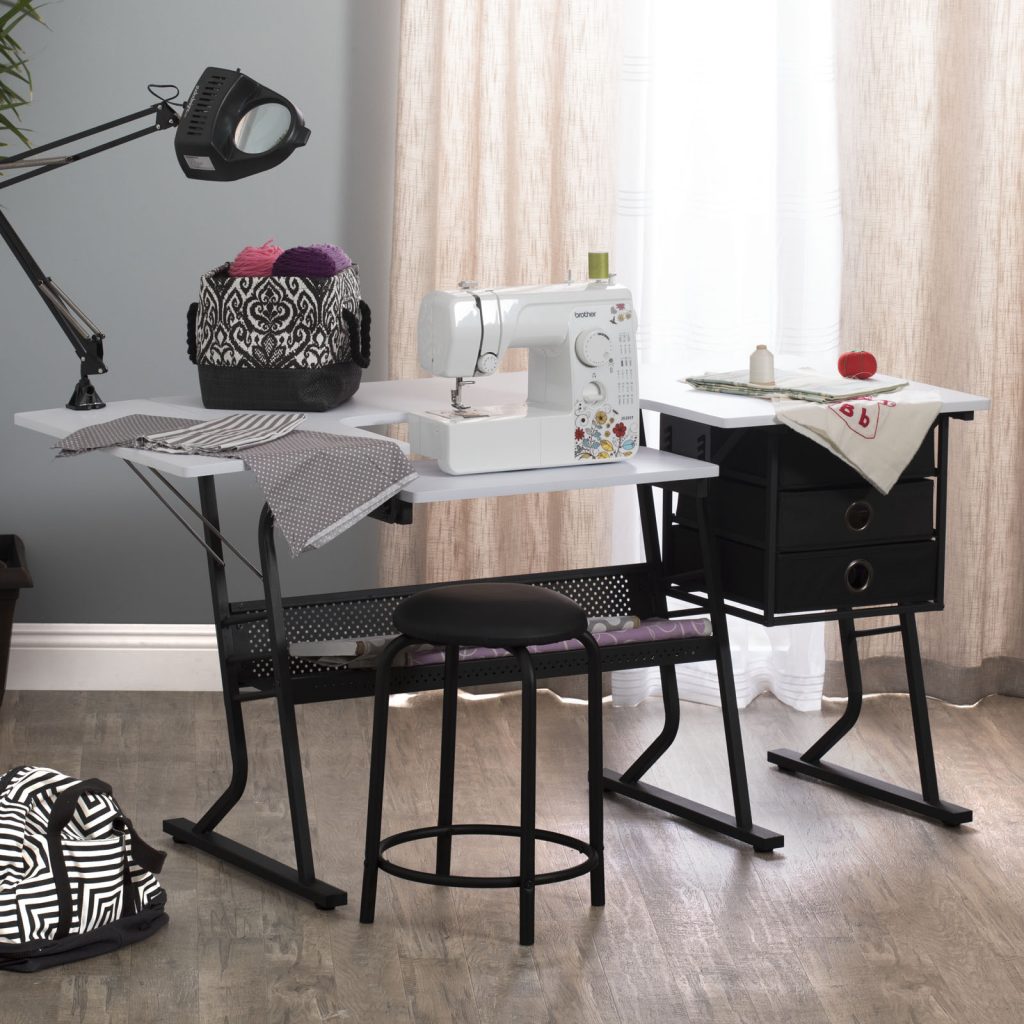 Finding the time and a place to create is always a challenge.  The Eclipse Hobby/Sewing Center by Studio Designs features a large 60.25-inch wide table top that allows you to spread out, cut, or adjust fabric and patterns.   The 9.5-inch wide side shelf folds down if less space is needed when not in use.  The three fabric storage drawers and a large lower shelf are available, so you can organize your supplies and keep them close.  The unique platform shelf lowers and allows you to adjust for a variety of sewing machine base heights.  Check out the full line of Sew Ready Products for more tables and work stations.